Fast Same-Day Shipping
straight to you.
Guaranteed 100% Safe
Only the best
30 days returns
All sales final on topicals, pigments, & open needles.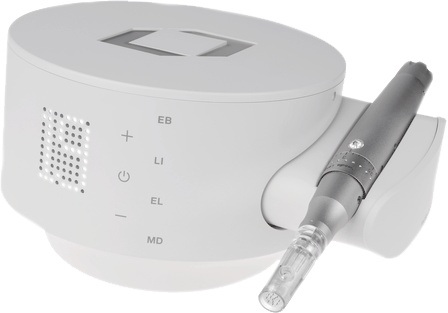 Zoom
Powerful machine with 19 speeds good for all permanent makeup, scalp, microblading and microneedling procedures.Diamond™ Features: Powerful motor with 19 speedsCan be used for scalp treatments. Retractable handpiece stand design. Wide LED display of current speed setting. Touch panel control. Uses REVO needle cartridges, many by Dr. Dixon's design.Our machines use very low voltage. DO NOT use other machine's power adapters as it will overload the circuits and damage the device beyond repairs. ​Circuit overloads are not covered by warranty. Only use the appropriate Skinmaster™ needle cartridges with your machine. Other needle cartridges will damage the cartridge locking mechanism of your device.
Universal Machine can be used anywhere. 110 to 130 v. The cord is 6 feet long. The Diamond console is 4" High and 5.5" round.
Both the Diamond machine and handpiece are for 12 V only. It cannot use any other power supply or any other handpiece. Likewise, you cannot use the handpiece with any other power supply or wall power.
The speed control is on the console and you can cover the machine with a plastic sheet.
The handpiece stand can retract into the machine if you wish.
Related Products
Here are some more products you may be interested in.
Recently Viewed Products
Here are some products